Nationwide Airlines Douglas DC-3 NC51881 (c/n 4477)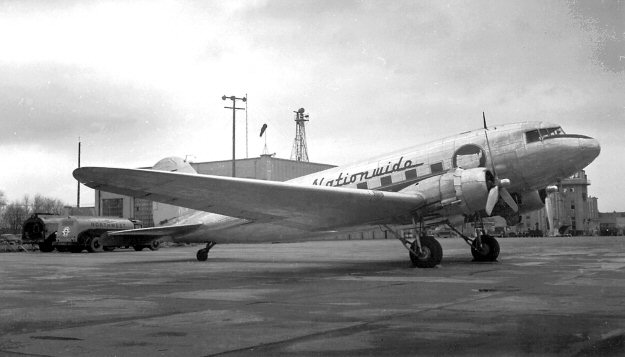 Mercifully, when Nationwide commenced regular schedules from Detroit to the Upper Michigan
Peninsula in 1949 they were operated by the redoubtable DC-3, rather than with the Boeing 247-D
which the airline also had in its inventory. The above image is from the Leo J. Kohn collection,
whilst that below of N57131 was taken by Brian Baker after a livery change had been made in
1952. When Roscoe Turner reclaimed his air mail route (AM88) and gave it to Lake Central
Airlines, Nationwide ceased to exist, although interestingly their old livery was carried forward to
Lake Central, as evidenced between this picture and that of the LCA DC-3. Interestingly,
NC51881 above had served in Australia in 1942 with the Army Air Corps as a C-47-DL
serial number 41-18415. It was sold by Nationwide to SAHSA in Honduras, becoming XH-SAD
and was written off in a crash near Santa Rosa in 1953. N57131 went to Wien Alaska Airlines
and then to non-sked Vance International Airways after which it had several other owners before
winding up with Pinehurst Airlines here in North Carolina in the early 1970s. It was written off
in an accident at Chicago in 1977.