Wien Alaska Airlines Douglas DC-3 N57131 (c/n 19040)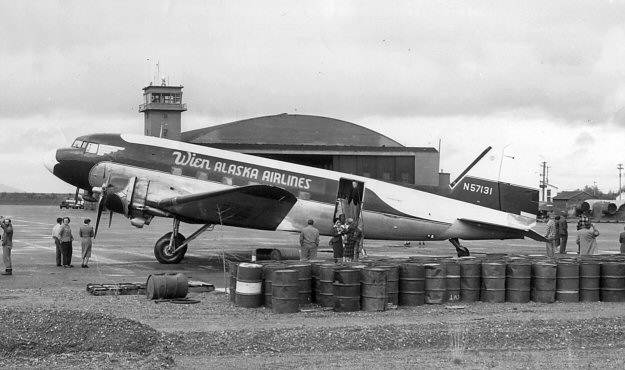 Recently acquired from Nationwide Airlines as evidenced by the livery scheme, Wien's N57131 is
seen here refueling at Galena, Alaska in September 1952. Galena is almost exactly half-way between
Fairbanks and Nome and exemplifies the small fields serviced by Wien Alaska at that time. Refueling
was done out of the 55 gallon drums seen alongside the aircraft, quite often by the flight crew themselves!
This DC-3 went to non-sked Vance International Airways and then had several other owners before
winding up with Pinehurst Airlines in North Carolina in the 1970s. It was written off at Chicago on
28 March 1977.