Vance International Airways Douglas DC-3 N57131 (c/n 19040)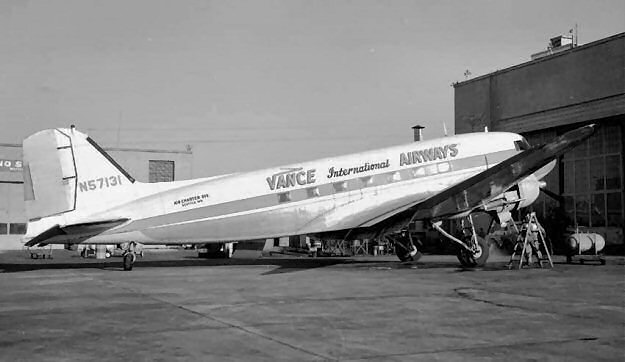 As far as I know, N57131 was the only DC-3 owned and operated by this small airline with the
grand name. It had been acquired from Wien Alaska Airlines (and flew with Nationwide Airlines
before that). Click the links for it in these previous liveries. Bill Larkins' shot (above) was taken
at Oakland in the mid 1960s whilst my own (below) was as the aircraft was loading at Burbank
for a chartered trip to Seattle via the Bay area around the the same time. The inscription on the
rear fuselage (enlarged below from my photo) reads 'Air Charter Division, Seattle, WA'. The
company was originally formed in Oakland in 1948 as Consolidated Air Lines by Vance Roberts.
In 1949 the name was changed to Vance International Airways and the baseof operations moved
to Seattle. The airline had, I believe, in addition to the DC-3 a couple of C-46s and at least one
DC-7. Vance's certificate of operations was purchased by McCulloch International Airlines
(based in Long Beach, CA) in 1969.