VH-EWR Lockheed 414-08 Hudson IV (c/n 6039)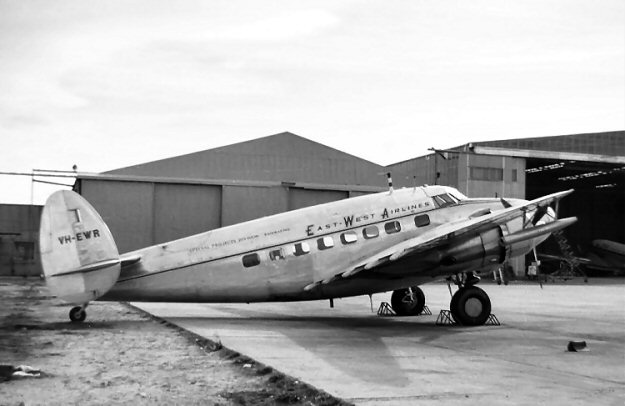 This former war weary Hudson (ex A16-110) was civilianized in 1947 as VH-JCM for Curtis-Madsen
Aircrafts Pty Ltd. It was used on migrant charters to Europe in 1947/48. Sold to East-West Airlines in
1950 it was re-registered VH-EWE and then as VH-BPT when that rego was required for a DC-3 in
1956. It was converted for cloud seeding operations under a CSIRO contract in 1957 and re-registered
VH-EWR ("R" for Rainmaking) in 1958. It is seen above in this Geoff Goodall photo at Essendon,
Melbourne in May 1962 with small wording aft of the East-West Airlines titling stating "Special Projects
Division Rainmaking" The cropped close-up at the foot of the page is from the Trevor Fuller collection,
via Maurice Austin. In 1962 it was sold to Sepal Pty Ltd of Mascot, a division of Adastra and re-regis-
tered VH-AGE. The image immediately below is from the South Australian Aviation Museum archives
and shows -EWR over the Snowy Mountains region , circa 1961.