Golden West Airlines DHC-6 Twin Otter N7711 (c/n 109)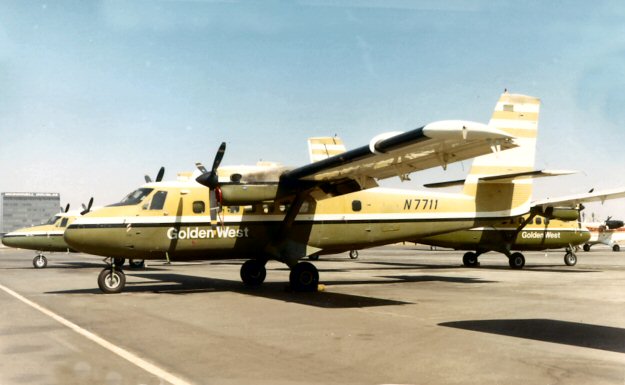 Golden West Airlines was formed in 1969 as a result of a merger between Cable Commuter Airlines,
Aero Commuter, Skymark Airlines and the original Golden West Airlines It wasn't so much that Golden
West absorbed the other lines, but rather that a new line was incorporated by combining the four smaller
airlines. All of them were among the first of the new "Third Level Carriers" which had developed in the
1960s. When it was done, Golden West was actually the largest of these in the US. The above shot
was taken at Long Beach in 1969 where the Twin Otters were congregated for absorption into the new
fleet. Initially, as shown here, the original liveries were kept and merely overpainted with "Golden West":
In fact, this is the same aircraft as that shown in the entry for Cable Commuter.