Golden West Airlines (Original) DHC-6 Twin Otter 100 N241GW (c/n 34)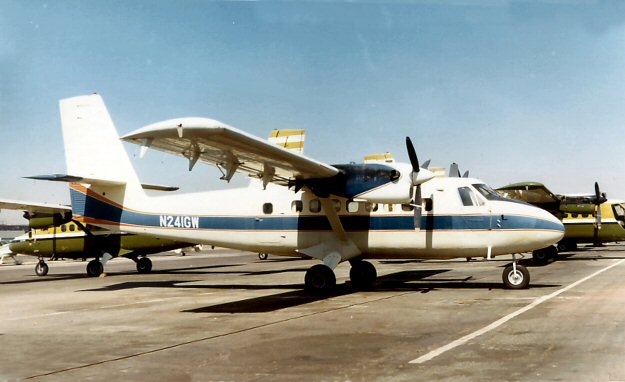 Golden West Airlines was formed in March of 1968 and ran commuter services from Terminal
4 at Los Angeles International Airport (LAX) to Santa Barbara and Palm Springs. It owned a
small fleet of Twin Otters, with no airline titling. This airline was merged, with Cable Commuter,
Aero Commuter and Skymark Airlines into a new airline of the same name, Golden West Airlines,
but under a different corporate filing. My shot shows one of their machines at Long Beach in
1969 just as the new Golden West Airlines was getting started. This early Twin Otter was deemed
too ancient for the new carrier, and did not join the rejuventated Golden West. It was sold off to
Western Skyways in December of 1969, and returned to the country of its birth two yearts after
that as CF-AUS.