Cable Commuter Airlines DHC-6 Twin Otter 100 N7711 (c/n 109)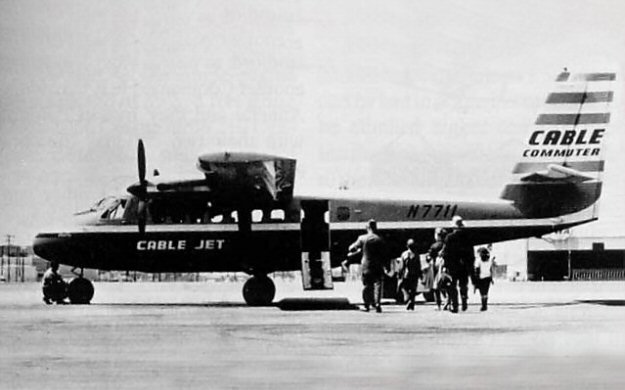 Cable Commuter Airlines was founded in November of 1967 by Roger Cable and Bill Myers.
Headquartered in Ontario Airport, Southern California, it provided service between Los Angeles
International Airport and Ontario, Inyokern and Palmdale. TWA permitted the airline to use some
of its counter space at LAX recognizing that such "feeder lines" could, and would, provide many extra
passengers to its own system.. The fares were relatively inexpensive and it sure beat wrestling with
L.A's (even then) horrible traffic problems. As a result, Cable expanded rapidly in 1968 extending its
service to communities in both Orange and Ventura Counties of Southern California. However, by
1969 things in the Third Level business were getting a little crowded in the L.A. Basin area and nego-
tiations were soon under way with several other Third Level carriers (to wit Aero Commuter, Skymark
and the original Golden West) resulting in the formation of a "new improved" Golden West Airlines.
Cable's Twin Otters were absorbed into the fleet of the new airline. The Twin Otters of the various
fleets were all assembled at Long Beach in 1969 to be repainted in Golden West livery. Alhough one
of these still bore Cable's markings as I recall it, I could not get a clear shot of it. Unfortnately, therefore,
the above image which came from a brochure I picked up at Long Beach Airport one day, is the only
one I have of a Cable Commuter Twin Otter.