VH-RAJ (1) de Havilland D.H.104 Dove 5 (c/n 04119)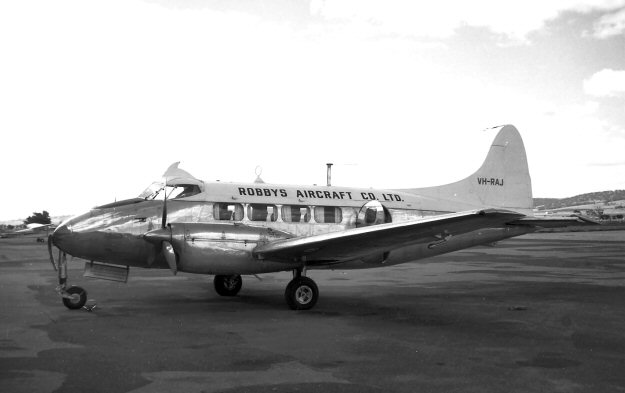 In the early 1960s there was money to be made in shuttling scientists to and from Adelaide and
the Woomera Rocket Range and the Maralinga Atomic Test Grounds. This opportunity was not
lost on Robby's, who acquired this Dove with which to participate in these shuttle runs.
C/n 04119 had probably, in its lifetime, had more identities than any other Dove. It was,
respectively, VP-KDG, VH-MAB, VH-AWF, VH-MMP, VH-RAJ, VH-TLU, VH-RCI,
and VH-CTS. When the atomic test were ended, Robby's sold the Dove to S.A. Air Taxis
Ltd. The two shots on this page, both from the lens of Geoff Goodall's indubitable camera
were taken (above) at Parafield in early 1962 and (below) a year later at Adelaide Airport.