de Havilland D.H.104 Dove 5 (c/n 04119)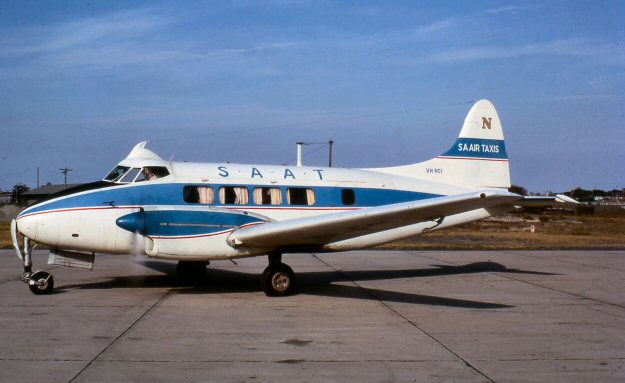 VH RCI was the third registration this Dove had acquired while still with SA Air Taxis. Prior to
this it had been VH-TLU. The VH-RC- series were allocated to Richard Cavill, founder of
Nicholas Air Charter who had acquired the Parafield based charter outfit. The company later
became SAATAS .when S.A. Air Taxis had been renamed SA & Territory Air Service, but
before that could happen the Dove was sold off to Captain Jack Ellis' City Centre Air Service
as VH-CTS. The above shot is from the collection of the late Mike Madden (via Geoff
Goodall) and was taken at Sydney in 1965. Mike was one of the most prolific and one of the
best, aviation photographers in Australia in the 1960 - 1980 era.