VH-MAB de Havilland D.H.104 Dove 5 (c/n 04119)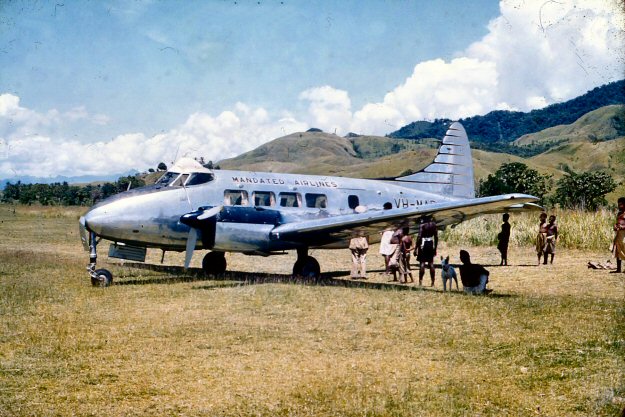 This Dove was purchased by Mandated Airlines in 1950 from East African Airways where it
flew as VP-KDG. The rare photos of it in Mandated titling (above and below) are from the
Robert Blaikie collection and were taken at Kaiapit, PNG in 1951/52. The aircraft was built
in 1948. In 1955 it was acquired by Airlines (WA) Ltd of Perth, in whose livery it is seen in
the shot at the foot of the page. AWA soon re-registered it into their series as VH-AWF.
However, after a very short tenure it was sold to MacRobertson Miller Aviation and re-regis-
tered VH-MMP. Its next owner (1959) was a company named Air Charter and they regis-
tered it as VH-RAJ. In 1962 it was re-registered VH-TLU and a year later as VH-RCI with
South Australia Air Taxi. 1965 saw it with City Center Air Taxi, now as VH-CTS who
(mercifully for the bloke in DCA assigning the registrations) wrote it off in an accident at
Lovely Banks Field, Geelong on 17 Nov 1968. It wound up in an air museum in Mildura.