VH-BFG Avro 652A Anson 1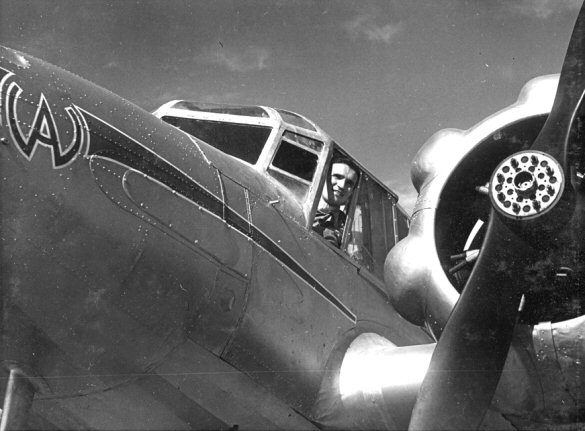 The above photograph is from the John Hopton collection (via Geoff Goodall). It depicts a
close-up of the nose of an Anson of Western Airways taken at an airshow at Albury in late
1947. The stylized "WAW" logo was nice. This embryo company only had two Ansons in
1947. The other was VH-BAX. However, since -BFG had been newly registered at the time
when this shot was taken, and since the machine above had obviously had a complete working
over, I don't believe it to be too muich of a stretch to label this image unequivically as -BFG!.
Western Airways Passenger Services c/- Miss Muriel J. Blackwell of Colac, Victoria purchased
RAAF Anson MG656 on 20 August 1946 at a CDC sale at East Sale, and it became VH-BAX
in April 1947. Two more Ansons were acquired in September 1947 from Bega Freight Service
of Bega, NSW. They were DG727 which became VH-BBI and DG729 as VH-BFG, the latter
being registered in October of that year. An Essendon-Warnambool service under the name of
Western Airways was inaugurated in 1947. In the event, -BBI never did go intoi service with
WAPS and was sold to East-West Airlines of Tamworth in April 1948. By that time it had
already been fitted with the stubby "Beaufighter" nose. Unfortunately, load factors did not sup-
port the fledgling airline and by1948 it went into liquidation. VH-BFG was withdrawn from use
at the end of 1950.