Lockheed 18-08 Lodestar N25635 (c/n 2027)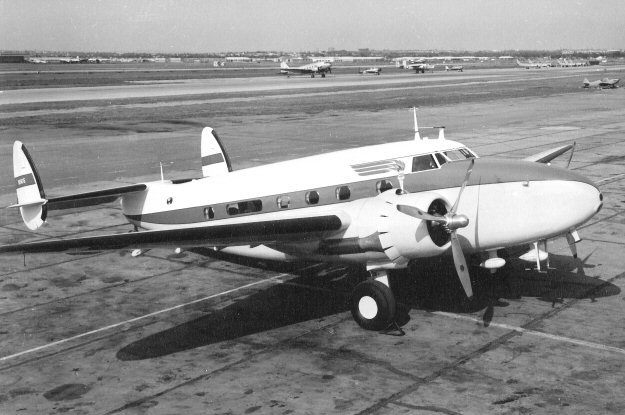 The Lodestar was a much favored executive ship in the halcyon years between 1946 and 1956.
It was somewhat faster than the DC-3. Well over 100 of them (including ex C-57s, C-60As
and R5O-5s) were used by the nation's corporations. This one was an ex Continental Air Lines
machine which was sold to Mississippi River Fuel Corporation in the early 1950s. It is seen here
just after having been converted to executive standard by The Garrett Corporation (AiReseach)
at their facility on the south side of Los Angeles International Airport. The conversions consisted
of basically gutting the airframe and installing plush settees, lounge chairs, executive bathrooms
and galleys. AiResearch were pioneers in developing aircraft for the "big wheels" of industry.
Today this company is part of the Honeywell Group. Later, in the mid 1950s, many Lodestars
were converted to Learstars (as my example under the Ex-Military Section illustrates).
The above shot, taken looking over the field, shows the open terminal beyond the C-47, AT-6
and B-25. Note, no high rise buildings, hotels, theme restaurant, etc. in those days. I worked
at Western Air Lines at the time and the terminal consisted of seven boarding arms with about
seven or eight gates on each. i.e. 50 odd gates for the

entire airport

! Western had the two
right most arms (looking from the front). I believe we also shared the No 2 gates with United.