PEOPLExpress Boeing 747-243B N604PE (c/n 19731)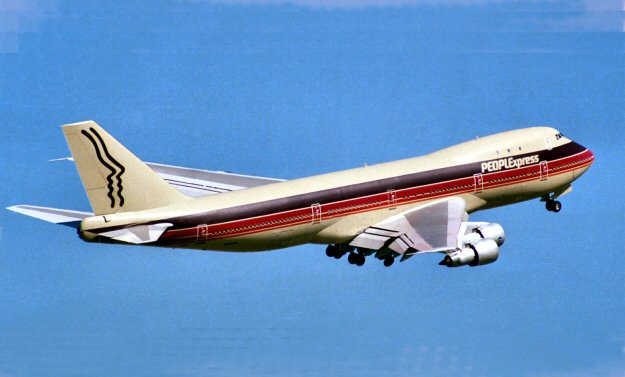 PEOPLExpress flew its first international service on 26 May 1983 from Newark to London. For
these routes a modest fleet of eight second hand Boeing 747-200s was acquired. N604PE, seen
here in another climbing away shot by Robert Campbell (Newark, September 1986) was originally
built as I-DEMO for Alitalia in 1971. Unfortunately the airline grew too quickly. The idea was
right but the execution left something to be desired. Rampant overbooking (it really had no computer-
ized reservations system) and lost luggage gave the wags to refer to it as "People's Distress". Despite
the loss of several key executives Burr persuaded the Board to purchase Frontier Airlines in Novem-
ber of 1985. Furthermore, to provide feeder services from Chicago and Newark, Britt Airways and
Provincetown Boston Airline were both absorbed in 1986. The net result was, after dissolving the
remians of Frontier, PEOPLExpress was itself absorbed by the Texas Air group (from whence founder
Donald Burr had come) at the end of 1986. Most of its assets passed to Continental Airlines.