Frontier Airlines McDonnell Douglas MD-82 N9802F (c/n 49117)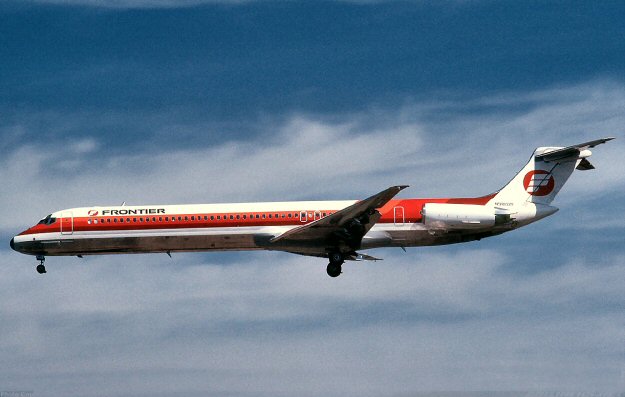 After the Airline Deregulation Act of 1978 the term "Regional Airline" tended to be meaningless,
inasmuch as virtually any airline could operate to any city, given that the arriving airport could find
either gates or time slots for them. The larger the terminal, the slighter their chances. Nevertheless,
Frontier, like so many of its contemporaries expanded rapidly. By the early 1980s it had routes
stretching from Burbank to Chicago and Spokane to Atlanta. And, as with many of these contemp-
oraries, that rapid expansion was not without its problems. To cope with their expanded network
and growing traffic demands, the airline purchased four stretched DC-9s in the early 1980s. These
were augmented with another another dozen or so as the decade progressed. The image above,
from Frank C. Duarte Jr. shows a typical example on short finals into the old Stapleton International
Airport at Denver (the company's headquarters) in September of 1982.



Footnote to Frontier Airlines



By 1985 the writing was on the wall as far as Frontier was concerned. The price-wars had taken
their toll and the airline was in deep financial trouble. In November 1985 it was purchased by
deregulation-born, Newark-based, PEOPLExpress who were looking to expand their empire in the
west. The resulting merger caused the bankruptcy of both airlines. Frontier's high costs were losing
the merged carrier an estimated million dollars a day. Clearly this could not continue and the Frontier
segment filed for bankruptcy in August 1986. A deal with Frank Lorenzo's Texas Air group saw it
revived as part of, and folded into, Continental Airlines. PEOPLExpress itself followed Frontier into
the Texas Air/Continental fold some four months later. The airline that had begun from its roots of
transporting cowboys around the wild west in the 1940s was no more.