Northwest Airlines McDonnell Douglas DC-9-32 N945N (c/n 47664)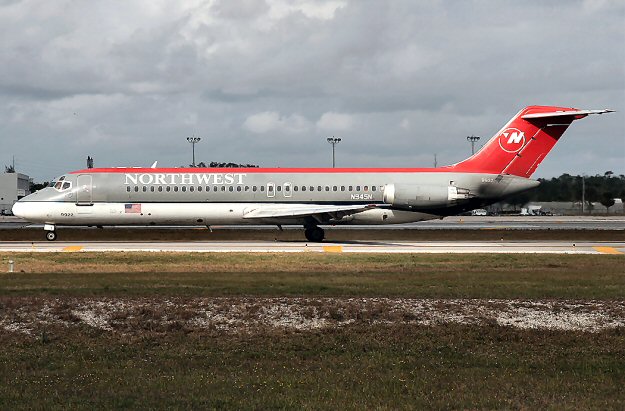 In the fall of 1986 Northwest Airlines purchased Republic Airlines. Although more or less a
dyed in the wool Boeing customer, they had renewed their acquaintance with Douglas (or rather
McDonnell Douglas as it then was) in the 1970s with the DC-10 but now found themselves in
possession of a large fleet of DC-9s. At that point in time NWA couldn't afford to get rid of them
and so they were absorbed into the fleet. Since that time they have acquired more used DC-9s
from Alitalia and SAS, although they have never ordered them new from the manufacturer. N945N
was a former North Central Airlines machine originally delivered in 1975, and is seen here at Ft.
Lauderdale-Hollywood International Airport in January of 2006 in this photograph by Ben Wang.
Presumably, when the aircraft is given a major overhaul it will be repainted in the new all grey
"NWA plus circle" livery.