North Central Airlines McDonnell Douglas DC-9-31 N954N (c/n 47159)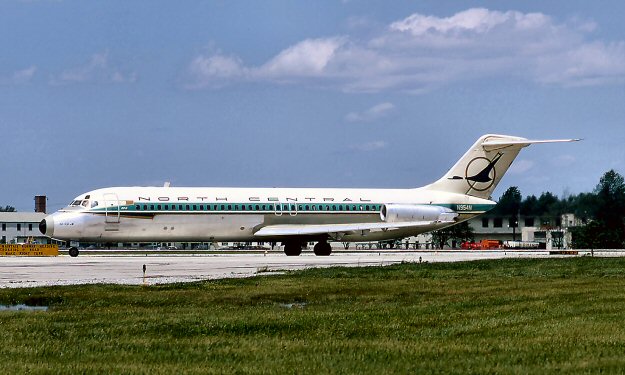 North Central's DC-9s were put into operation in the fall of 1967, and N954N was put into use in
early 1968. It is seen here in this shot by Bob Garrard at Port Columbus International Airport in
1970 Most airliners operating in the harsh conditions of the American mid-West tended to become
rather dirty looking over the years. N954N isn't too bad in this shot. This particular machine was
destroyed when it took off from Chicago's O'Hare Airport on 20 December 1972 in poor visibilty
and collided with Delta Air Lines Convaiur 880 N8807E which was crossing its path. Poor ground
control communication was cited as the cause. Anyway, North Central eventually acquired more than
20 of these short bodied series 30 DC-9s. By 1970 the airline's route structure extended from Minneapolis
to New York City in the east, Cincinnatti, Columbus and Kansas City in the south, west to Denver and
north to Minot, North Dakota. Most of the sweries 30 DC-9s went on to sewrve with Republic Airlines.