VH-URX de Havilland D.H.84 Dragon II (c/n 6081)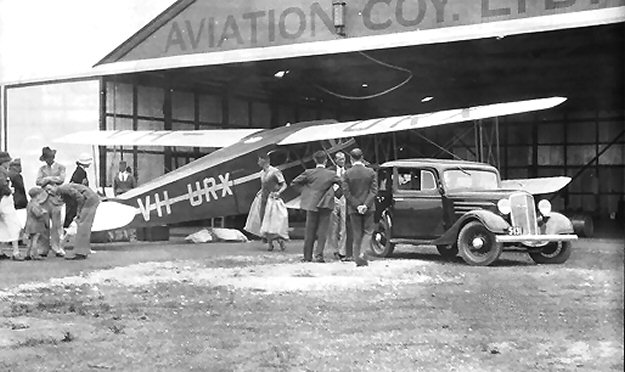 Three shots of one of the first Dragons on the Australian civil register handling Royal Mail.
It was owned by MacRobertson Miller Aviation, which named it 'Gascoyne', and used it
on passenger and mail services up and down the West Australian coast. The image above
is via the State Library of Western Australia collection, while the close up below is from the
Geoff Goodall collection. In the latter a couple of officials are critically examining one of
the mailbags just before Christmas in 1934 (hence volume, presumably). The final photo is
via the South Australian Aviation Museum archives and shows the nose of -URX with the
name clearly visible and 'MacRobertson Miller Aviation Co Ltd' on the cowling. -URX was
impressed into service with the RAAF during WW II becoming A34-1 (VH-URU was
A34-2). It was never civilianized, however, as it ditched into the Indian Ocean off Dongara,
WA in 1942. Noted historian Fred Niven adds these comments:
"One of three D.H.84s ordered by M.M.A. for their new North-West W.A. service (with VH-URW and VH-URY).
Registered VH-URX to MacRobertson Miller Aviation Co. 11/9/34 (CoR 488) - 8 passengers.

Its color-scheme was dark,
royal-blue, with silver wings, tail & stripes etc.

It was damaged 23/10/34, by a 'willy-willy', whilst on the ground at Ord
River, after pilot George McCausland failed to tie the aircraft down, during a stop-over on a service to Daly Waters.
It was blown into a stockyard fence, despite McCausland & Bert Hussey desperately trying to hold it down; causing
considerable damage.

Its CofA was suspended 7/11/34.

It was later repaired by Horrie Miller, after parts were used
to allow VH-URY to fly again after its crash on 5/4/35.

In 9/38 it was flown to Adelaide by Cyril Kleinig, joining Cessna C37
VH-UZU, Fokker Universal VH-UJT & Fox Moth VH-UDD.

It mainly operated M.M.A.'s Adelaide-Whyalla & Adelaide-Iron Knob
service (normally flown by Cyril Kleinig).

It returned to WA after M.M.A. handed overs its SA routes to Guinea Airways
April-September 1939.

IMP into RAAF 27/12/39, as A34-1 & flown to Point Cook by Jimmy Woods.

Struck-Off-Register 8/1/40.
It served initially with RAAF 1.FTS, at Point Cook, Vic.

Transferred to

N

°

35 Squadron, Maylands.

It crashed into the sea off
Cliff Head, some 29km south of Dongara, WA, 14/6/42, after the starboard engine failed (pilot RAAF Flt. Lt. Burdeau).
It overturned & was badly damaged, but the pilot & his 4 passengers escaped with only bruising.

Its remains were taken
to Pearce Air Force Base & reduced to spares."