VH-URW de Havilland D.H.84 Dragon II (c/n 6080)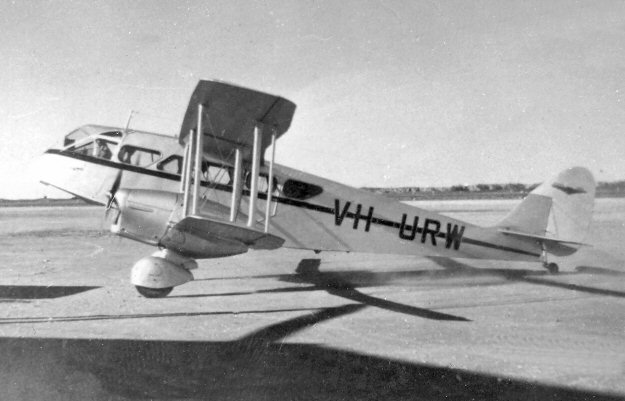 The three photographs on this page are all from the Geoff Goodall collection. This aircraft was
delivered new to MacRobertson Miller Aviation of Perth in August 1934. It is seen in the shot
above at Port Hedland, and a close up of this reveals that it was named

'Pilbarra'

, for the district
of that name around Port Hedland. In actual fact, and unless that is an old spelling (which I
could not corroborate), the name should have been '

Pilbara

'! The photo immediately below
shows it in smart original dark royal blue with silver trim MacRobertson Miller livery along with
VH-URY (I use the same image for that rego). The gentlemen next to -URY are pilots
G. McCausland and Bert Hussey. In 1939 -URW was sold to W.R. Carpenter and Co Ltd,
dba Mandated Airlines in New Guinea. On 30 January 1940, the Dragon crashed into Little
Wau Creek during a misjudged approach and attempted go-around to Wau Airport. The
photo at the foot of the page shows the wreckage in the thick jungle typical of the area. The
aircraft had been on a Salamaua toWau freight flight. Pilot R.E.Doyle and two native cargo
handlers were killed. The wreck was purchased from the insurance company by aviation pioneer
Ray Parer of Parers Air Transport Co at Wewak, to provide spares for his Dragon VH-AEA.
He moved much of the crashed aircraft by air to Salamaua, then by boat to Wewak, then barge
ashore at Wewak. Parer decided that -URW could be rebuilt and had done considerable work
on it (for possible sale to the Australian Government) when Wewak aerodrome was attacked
by Japanese aircraft in February 1942 and the partially rebuilt Dragon was destroyed . Sadly,
Kevin Parer also lost his life in this same action.