VH-URY de Havilland D.H.84 Dragon II (c/n 6082)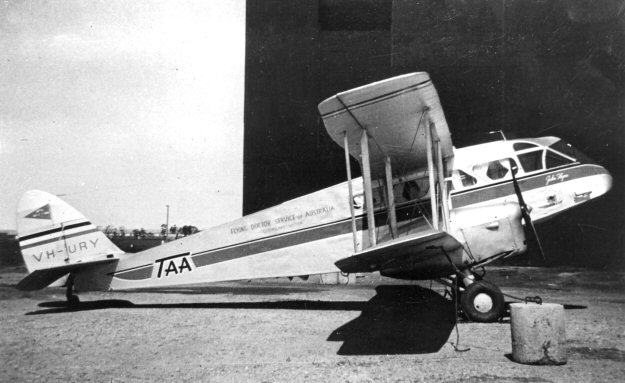 The above photograph shows -URY at Eagle Farm, Brisbane, circa 1950 in TAA livery while it
was being operated for the Flying Doctor Service of Australia and bearing the name

'John Flynn'


on the nose. Below it is seen in more halcyon days just after it had been delivered to MacRobertson
Miller Aviation of Perth in 1934, along with sister craft VH-URW and VH-URX. The two gentlemen
in attendance are the pilots who normally flew these machines - Messrs G. McCausland and Bert
Hussey. It was sold to Airlines (WA) Ltd in 1938 (named

'Murchison'

) and the image at the foot
of the page illustrates it at Port Hedland, circa 1938. This Dragon was impressed by the RAAF in
July 1940 and delivered from Perth to Parafield on 18 July 1940 by company manager Charles
Snook. At Parafield it was taken over by the RAAF becoming A34-6, but later released to DCA
for civil disposal. It joined Qantas in 1943 who were at the time operating the Flying Doctor Service.
The image of it at the bottom of this entry from the Bernadette May collection shows it whilst with
Qantas, circa late 1940s. The Flying Doctor service was taken over by TAA in July 1949.
VH-URY crashed on Cheviot Hills, Queensland on 22 October 1953. The Pilot and the Doctor's
wife were killed with 3 others surviving. All photos except the last one are from the Geoff Goodall
collection.