VH-UYT Taylor J2 Cub (c/n 958)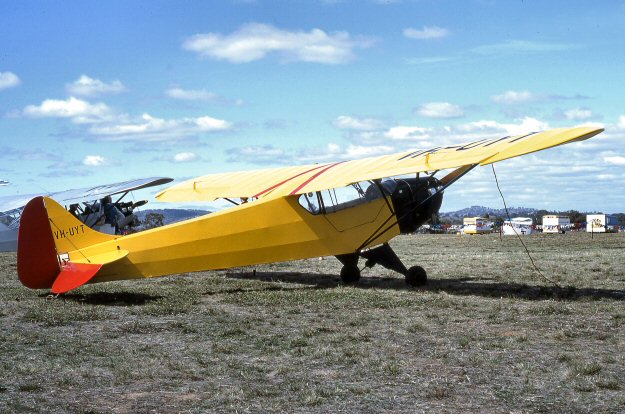 Normally I put the "period" photographs of any subject as the banner image on each page. i.e. as the
aircraft appeared when it was first registered. However, in the case of -UYT these early shots are so
poor that I will elevate Geoff Goodall's 1985 shot of it taken at the Mangalore air show to the primo
position in this entry. In fact, the shot immediately below is so grainy and blurred that I almost didn't
include it.
Early in 2007 I received another image of it from Barbara Butler. Not super, but showing
the diminutive craft still with its Taylor stripe livery. Barbara indicated that her mother had trained for
her licence on this machine in 1938. It also appears on another of Barbara's photos under VH-UXW.

VH-UYT was re-registered VH-PCM in the early 1950s and later (in 1955) as VH-BPK. It was
restored to VH-UYT again later in the 1990s. It currently registered to an owner in Albury, NSW.