VH-ZUP de Havilland D.H.82A Tiger Moth (c/n 82358)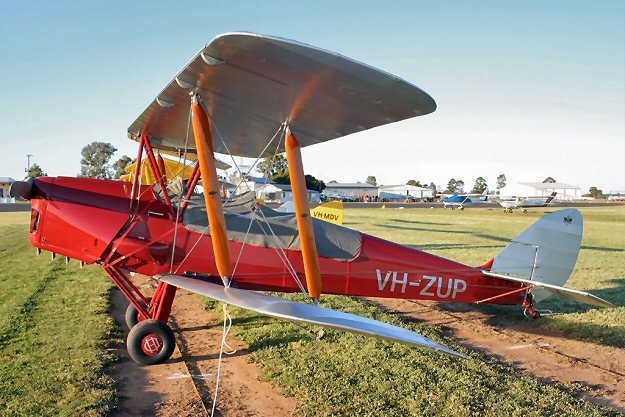 This was the former VH-AKN(2) which crashed at Midland Junctioin, W.A. in 1955. Over a
dozen of these old agricultural Tigers were stored away at Cunderdin by Bob Couper Co in the
1960s. In 1968 they were cleared out and ended up stashed in a large shed on a farm near the
airport, along with the Fox Moth -USJ. Some years later the collection was acquired by a Tiger
owner at Trayning WA named Les Kordys (see VH-AMY) and he moved them all to a shed in
the main street of Trayning. Ten years later they were all sold to a chap at Luskintyre NSW who
set up a production line using the fuselage frames and as much else as he could salvage from the
collection. His new rebuilds got wierd and wonderful registrations like "ZUP", but he was a good
guy and valued their histories, so kept their correct identities. VH-ZUP first flew again in June of
2001. Phil Vabre caught it at Narromine in October of 2005.