VH-AKN (2) de Havilland D.H.82A Tiger Moth (c/n 82358)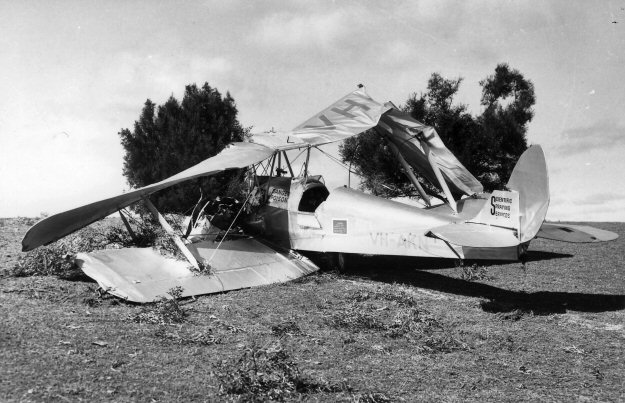 This was the second Tiger to be registered VH-AKN. Both iterations of the rego were Hatfield
built machines, the first being re-registered VH-PCA in 1950. The second, seen above after it had
crashed at Midland Junction on the outskirts of Perth on 13 June 1955, was one of those Tigers
which retained its RAF serial (N9257) whilst in RAAF service. At the time of the prang it was
owned by Scientific Spraying Service, one of many short-lived WA aerial agricultural companies
during the 1950s. Note company name on the tail in the shot above, from the Geoff Goodall
collection. It evidently struck a tree during a spraying run by the pilot/proprietor Hal Watts.
VH-AKN was eventually rebuilt as VH-ZUP. Over a dozen old agricultural Tigers were stored
away at Cunderdin by Bob Couper Co in the 1960s. In 1968 they were cleared out and ended
up stashed in a large shed on a farm near the airport, along with the Fox Moth -USJ. Some years
later the collection was acquired by a Tiger owner at Trayning WA named Les Kordys (see
VH-AMY) and he moved them all to a shed in the main street of Trayning. Ten years later they
were all sold to a chap at Luskintyre NSW who set up a production line using the fuselage frames
and as much else as he could salvage from the collection. His new rebuilds got wierd and wonderful
registrations like "ZUP", but he was a good guy and valued their histories, so kept their correct identities.
.