VH-KAC (2) Auster J/2 Arrow (c/n 2388)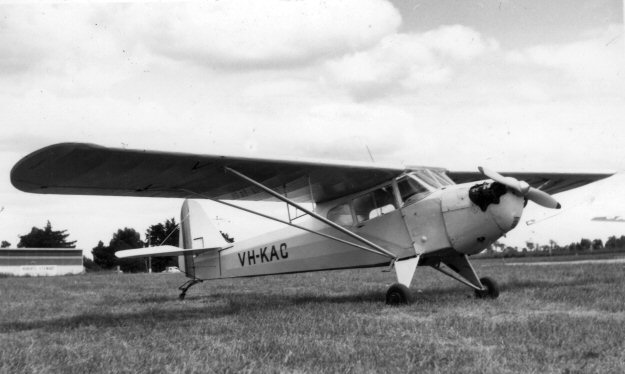 This was the Arrow which was to have gone to Belgium as OO-AXG but went instead to Kingsford
Smith Aviation at Bankstown in 1951 as VH-KAF and then was sold to the the Aero Club of South-
ern Tasmania in 1954. In 1957 it was sold "up north;' to the Tasmanian Aero Club who re-registered
it VH-KAC , the original Aiglet bearing that rego having been re-registered VH-SAC. I left the club
in 1954 to go to Melbourne, so never got a photo of the Arrow as either VH-KAF nor -KAC. The
above shot was taken at Western Junction, Launceston in 1961 by Neil Follett (via Geoff Goodall).
VH-KAC's CofA lapsed in 1966 and it was nor restored until 1986, reappearing as VH-MJB, regis-
tered to M. Duff of Launceston. Early in the new millennium it was acquired by E.C. von Nida of
Cairns, N.Q. It was then cancelled by CASA on 24 April 2006 as "no entitled person (CAR13N)"
whatever that meant. . In February 2011 I received an email from Richard Rudd who has now gained
possession of the J/2 and states that he acquired it from the Ted von Nida estate after he had been
re-building the wings for him after its upset. Post Ted's final departure Richard refurbished it, removing
lots of heavy stuff, bench seats VOR, ADF, TSP etc and then registered in on the RAA register as
24-4566 (below). It is no longer active as such and is currently undergoing another complete refurb.