VH-CRR Auster J/4 Archer (c/n 2352)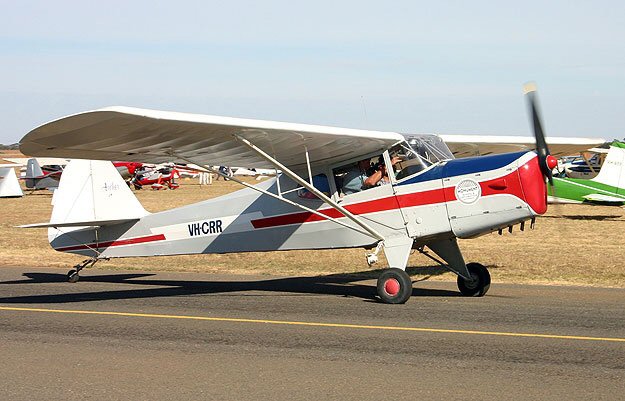 This Archer was originally built as a J/2 Arrow and registered G-AIGW on 22 October 1946.
Shipped to Australia in May 1947, it became VH-BDE, and was arguably the first Auster im-
ported by Kingsford Smith Aviation of Bankstown who later became THE Auster dealers in
Australia Anyway KSAS eventually converted this aircraft to J/4 Archer standard (in April
1957) and re-registered it VH-KFB the following year. It did not retain that identity long,
since it was substantially damaged at Canberra in October of 1958 and then laid up for several
years. Following its rebuild it became VH-CRR in September 1961. The three images of it
here are: (top) by Phil Vabre at Swan Hill in April of 2005; (immediately below) by Brian Baker
at Bankstown in 1962 (looking pretty much the same, although it must have been recovered at
least once since!); and (bottom) by Geoff Goodall at Parafield in March 1964 when it was a
participant in the 1964 R.M. Ansett Air Race. This Auster has been owned for forty years by
Imre (Eric) Szerenyi, an Hungarian refugee from the Russian invasion of his country in 1956.