VH-BAF (2) Avro 652A Anson 1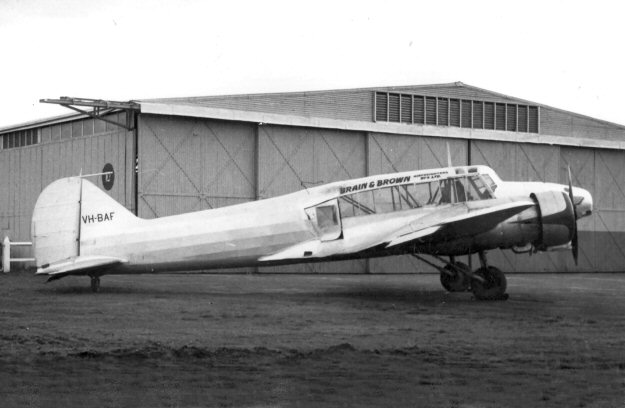 Anson MH120 was one of the small number retained by the RAAF for postwar use and was sold as
late as February 1953 to Greenfields Air Taxis of Albury NSW for 100 pounds. Gus Greenfield had
taken over the charter business begun in Albury by Denys Dalton & John McInnerney (see Proctors
VH-AYU & AYV), and which included an Anson VH-BLP (ex DG913) used on charters and also
a scheduled passenger service Albury-Holbrook-Wagga in 1951/52. VH-BLP was retired later in
1952 due to the poor condition of its wooden wingspar, and MH120 was purchased as a replacement
and the registration VH-BLP was re-issued to MH120. However, in the event, work on its civil con-
version was delayed for several years until it was sold to Brain & Brown Airfreighters at Moorabbin.
It finally received its CofA in Sept 1957 at Moorabbin as VH-BAF and went into use on general freight
and aerial survey work. It is seen above at Moorabbin in 1960 with B&B titling, and, in photograph
# 5, a rough image of it as MH120, also at Moorabbin, in 1957. On 7 October 1960 VH-BAF
suffered a tire burst on takeoff from Moorabbin when bound for King Island on a regular run to collect
crayfish. The resultant ground-loop caused the undercarriage to collapse. The damaged Anson was
stored in the Brian & Brown hangar at Moorabbin until chosen as the prototype of a metal-wing con-
version that Brain & Brown planned would keep Mk.1 Ansons flying in Australia well past the DCA
grounding date of June 1962. Work commenced in 1961, using a spare Avro XIX metal mainplane
and tailplane purchased from RAAF stores in Adelaide, left over from the two Avro XIXs used by the
RAAF at Woomera, VM374 & VM375. Avro XIX style windows and the fitting of Cheetah XV
engines completed the modification. The conversion was finally finished and the highly modified "new"
VH-BAF took to the air at Moorabbin in May 1963. B&B's plan to convert several more Ansons
(one to be powered by P&W R985 Wasp Juniors) was abandoned due to the length of time it took
them to do -BAF. Immediately below (image # 2) is a hangar shot of it undergoing the transformation.
The color image (# 3) shows -BAF at Moorabbin in November 1963 just after the metal wing conversion.
By the time the color shot (# 4) was taken at Ballarat in the early 1960s, Terry Brain had taken over
ownership of it, and it carried the cabin titling "Terry & Richie Brain". Terry Brain continued to fly this
metalized Anson for another ten years after B&B ceased operating as a freight carrier. Finally, it is seen
at a very wet Essendon in December 1975 looking remarkably pristine (shot # 6). VH-BAF then
spent time at the ill fated Wangaratta Air World museum. It was the last airworthy Anson Mk 1 in
Australia until it was sold in New Zealand in 2002. It was completely restored at Wakefield,
(near Nelson) N.Z. by 2012.as ZK-RRA in full "glasshouse" configuration, dressed up,obviously, as
a "warbird" See photo No 7 below.

Photo credits: Top and # 5 - Neil Follett (c/o Geoff Goodall collection).
No 2 - Dick Hourigan (c/o Geoff Goodall collection)
No. 3 - John Hopton (c/o Geoff Goodall collection).
No 4 - Barry Maclean.
No 5 - Geoff Goodall
No 6 - Greg Banfield
No 7 - Rowan Hughes



2.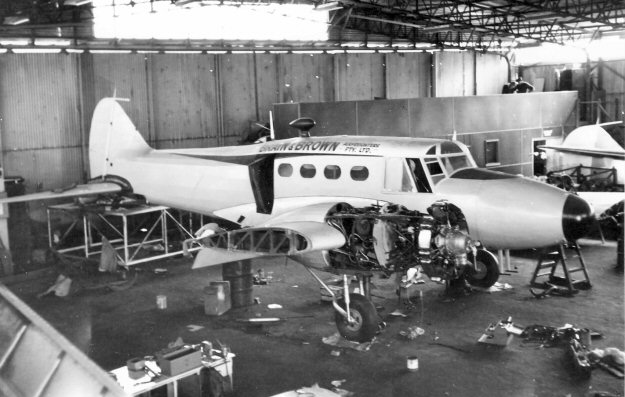 3.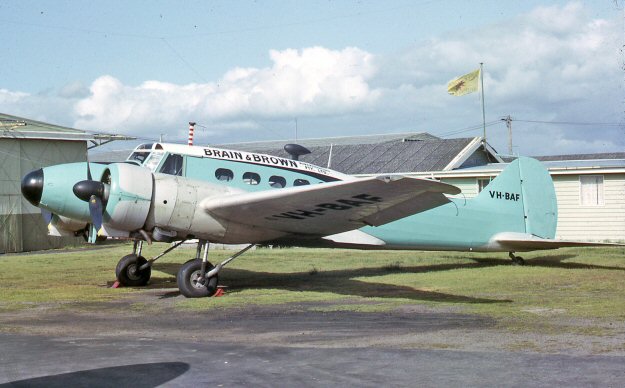 4.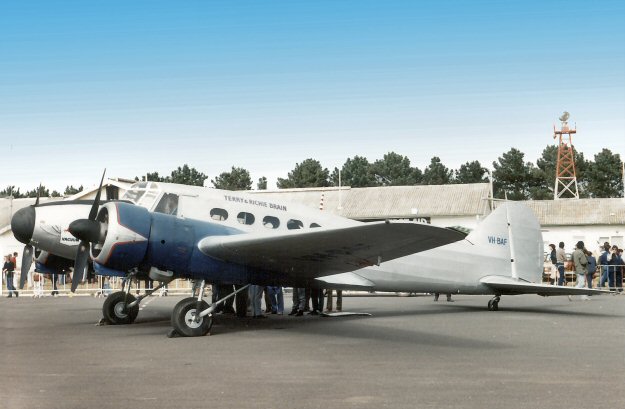 5

.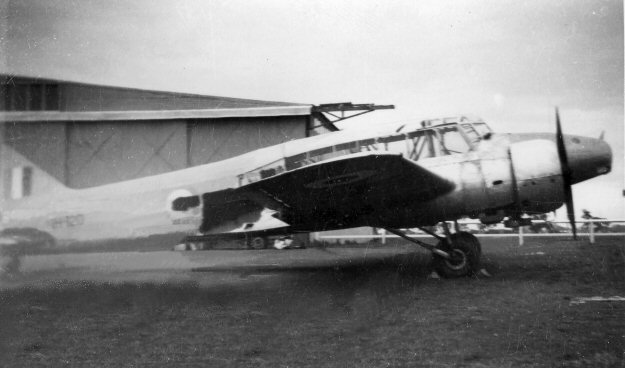 6.