VH-AYU Percival P.28B Proctor I (c/n K303)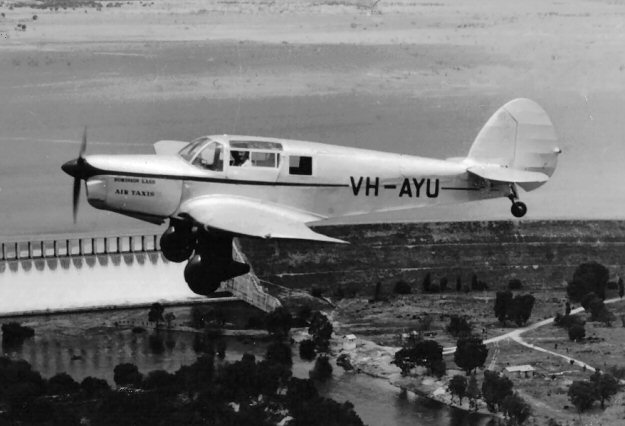 This rare shot of VH-AYU over the Hume Weir (near Albury, NSW), circa 1947, comes from the
files of Ross Gorman of Myrtleford, Victoria. The aircraft was built for the RAF as Proctor I P6269
by F. Hills & Son. It was civilianized in 1946 as G-AHMG.
Geoff Goodall has done an historical study of every Proctor registered in Australia, and provides the
following fascinating details on this bird:
VH-AYU was owned by a British chap named Denys N. Dalton, ex RAF, who had spent 3
years in Australia during the war. He decided to emigrate here and departed England on 15
August 1946 in Proctor G-AHMG named

"Dominion Lass"

flying to Australia with two lady
passengers. He planned to start a charter company at Essendon with a partner Fred Odgers
who flew his Proctor G-AHFX out here in company with Dalton. That latter aircraft became
VH-AYV. Both machines were entered onto the Australian register in October of 1946.
The following year Dalton set up his one man company as Air Taxi Pty Ltd at Albury. In the
shot above, the legend

"Air Taxi"

appears below the name

"Dominion Lass"

. In Sept 1948
Dalton sold -AYU to Mrs Hazel Roberts of "Ennis Downs" Station, Richmond Qld. The aircraft
was later sold to Mitchell Aerial Services at Cairns in Jan 1956 but later failed a CofA renewal and
was struck-off the register on 1 May 1959. Academic really, since all wood bonded aircraft were
soon to be pulled from the register anyway, as described in several other Proctor entries.
Meanwhile Denys Dalton went on to become a successful businessman and made around the
world record flights in his Beech Travelair VH-TKD and later in his Beech Duke VH-TKE.
The photo immediately below is from Geoff's collection and shows Proctor when owned by
Mitchell Aerial Services taking off from visiting the annual Oak Park Station picnic horse races
in north Queensland in 1956.
Finally, from Kym Burton comes the shot below of the Proctor at Parafield in 1946 en route to
Essendon.. The photo was taken by her grandfather who was a mechanic at the field during and
after WW II.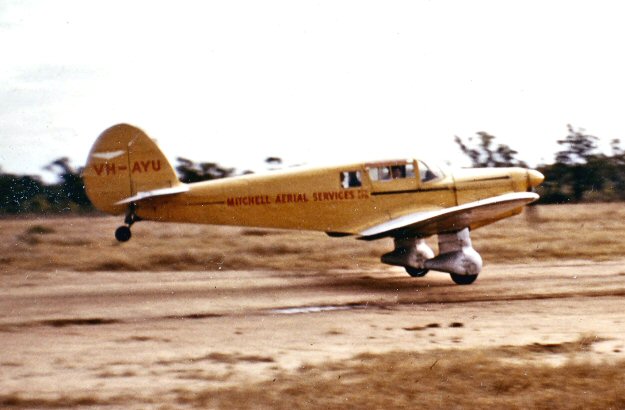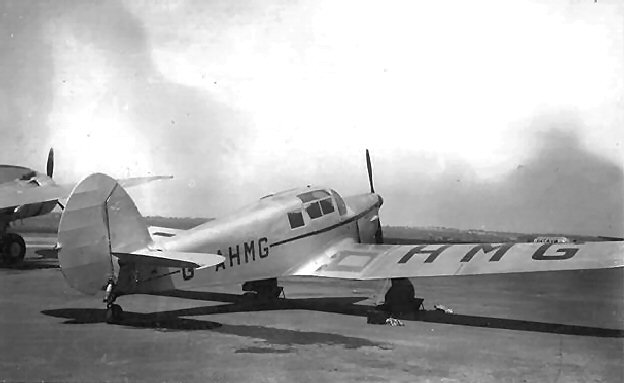 .