VH-ACV (1) Fairchild 24R9 (c/n 416)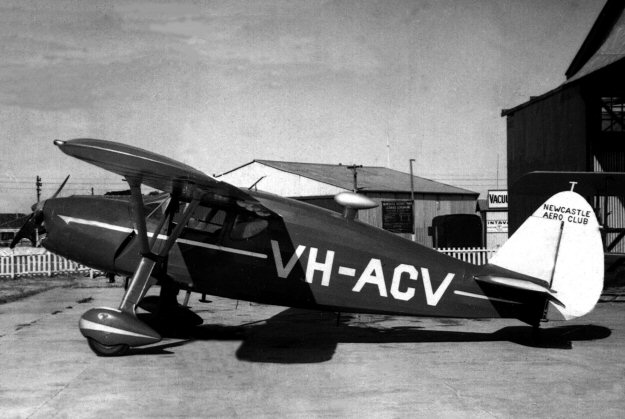 The register states this aircraft was imported in October of 1939. I am surprised, frankly, that they
were able to do that. Notwithstanding the fact that we were, by then, at war, I would have thought
that the freighters were all occupied doing "'essential war work". Clearly the purchase had been
consummated prior to September of that year and so presumably the deal went through. This, along
with the following machine, VH-ACW were shipped new from Fairchild. Anyway, in the event
it was only on the register for a year before it was "drafted" into the RAAF, becoming A36-1. The
shot below is from the Geoff Goodall collection and shows it just after it had been impressed into
service, with military serial, but still in civilian garb. This would soon be changed to a camouflage
finish. Sold post-war by Commonwealth Disposals Commission to Brown & Dureau Pty Ltd, who
traded in numerous disposals aircraft, it was rebuilt at their hangars at Belmont Common aerodrome,
Geelong and the Ranger engine was replaced by a Menasco C4S Pirate, changing the type to F-24M.
It appears in the background of the Frank F. Smith shot of Wackett VH-AGE taken at Broken Hill
in the late 1940s, and so possibly in this shot it was Menasco powered (although it looks like a Ranger
to me). -ACV had an accident at Nhill, Victoria in 1951 and remained dormant until rebuilt in 1956
by Kingsford Smith Aviation Services, fitted with a Warner Scarab radial engine, given the designation
24R9W (to indicate that it was not a standard F-24W Argus, although it did retain the fuel tankages
and CofG limitations of the original F24R9.) and re-registered VH-BVF. The Fairchild went on to a
busy life with many owners, and after a long rebuild by Fairchild enthusiast John Gallagher at his home
in Sydney, it is still flying today under the new rego VH-JCG. At the foot of the page is a shot via
Kevin O'Reilly of -ACV at the Dahlenburg farm at Nhill in 1950. It was flown by Faye Dahlenburg.
who is seen sitting on the wheel spat. The aircraft was registered, at the time, to F.J. (Jack) Williams
of Nhill, dressed in 'standard' F-24 livery and named

'Pegasus II'.

Finally, at the foot of the page
is a shot from Paul J. Miller of -ACV, the locale of which was identified by Kevin O'Reilly as being
Nhill, Victoria in the early 1950s. The Fairchild was owned, at the time, by F.J. "Jack" Williams.
The car, Kevin indicates, is a circa 1948 Morris '6'.