VH-BVF Fairchild F-24R-24M (c/n 416)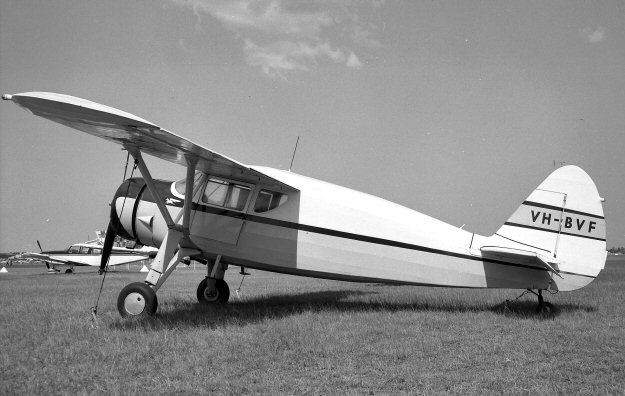 VH-BVF was the former VH-ACV, built as a F-24R9 in 1939 and impressed into service with
the RAAF a year later as A36-1. Upon being demobbed it again became VH-ACV, still with
an in-line engine. It crashed at Nhill, Victoria in February of 1951 and was restored as VH-BVF.
After the rebuild the aircraft was officially known as a F-24R-24M and hence I assume that the
radial engine fitted in lieu of the original Ranger was a Menasco. Were it a more normal Warner
Super Scarab fitting it is possible that the aircraft would have been reclassified as a straight
F-24W41. When Geoff Goodall took the lovely shot above at Bankstown in September 1968
(above) it was resplendent in a white and yellow trim with black cheat lines. It had previously
sported an almost reverse image of that scheme in April of 1964 as seen in the photo (below)
taken by Bob Neate at Condobolin, NSW. VH-BVF was withdrawn from use in 1971.