VH-AGE (2) CAC CA6 Wackett Trainer (c/n 372)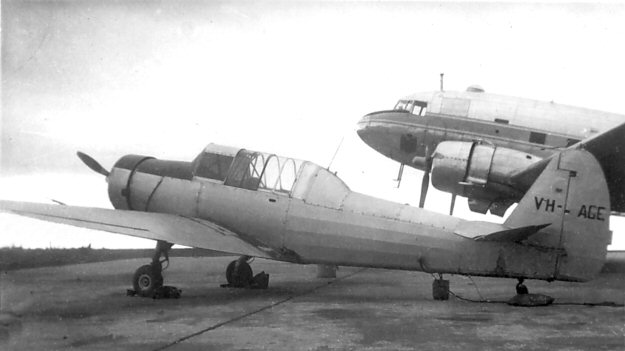 Here's a ropey old Wackett taken at Essendon in 1954. Note DCA DC-3 behind. Just why it was
at Essendon is a mystery, since that airport was normally used by bigger fry than Wacketts. Possibly
it was there on DCA business? Other than the fact that it served in the RAAF as A3-138, and was
withdrawn from use in 1956, I know very little about this aircraft. Frank Smith's shot (below) precedes
mine by a number of years having been taken at Broken Hill in the late 1940s. Note the Fairchild 24R9
VH-ACV in the background.. The Wackett looked quite smart then with its cheat line. VH-AGE was
apparently originally sold to a J. Allesio for 160 quid (no dollars in those days) in February of 1946 as
surplus. At the foot of the page is an interesting shot from the John Hopton collection showing what
happens when one taxis a light aircraft (the Wackett Trainer only weighed about 2,000 lb and most of
that was up front) behind a Norseman while it was running up. The Norseman in this case was Silver
City Airways' VH-BHF. The accident occurred on 11 June 1950, while the Wackett was owned by
the Aircraft Industry Flying Club out of Moorabbin. This club operated a number of the type during
the 1950s. Incidentally, the first VH-AGE was to have been the Douglas Dolphin A35-3 sold in May
1945 to a Mr. Whittle, but, in the event, this rare machine was never civilianized.