VH-ABB Short S.23 Empire Flying Boat (c/n S877)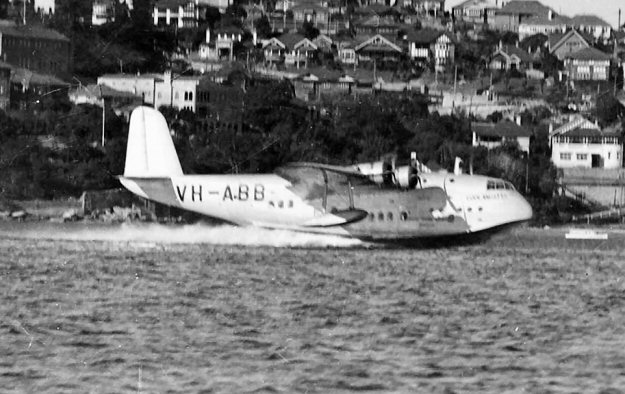 Thirty-one elegant "C" Class 'boats were built, of which eight were eventually registered to
QANTAS. They were: This website contains illustrations of four of them. Some are from
Short Bros & Harland Ltd, others from the CAHS collection. The aircraft were:

VH-ABA "Carpentaria" ex G-AFBJ
VH-ABB "Coolangatta" ex G-AFBK
VH-ABC "Coogee" ex G-AEUG
VH-ABD "Corio" ex G-AEUH
VH-ABE "Coorong" ex G-AEUI
VH-ABF "Cooee" ex G-AFBL
VH-ABG "Coriolanus" ex G-AETV
VH-ADU "Camilla" ex G-AEUB

All the "C" Class 'boats had names beginning with that letter, and the QANTAS machines had, naturally
enough, monikers with an Australian flavor.
They were used, more or less interchangeably, with the Imperial Airways' fleet. QANTAS crews manned
the flights from Sydney to Singapore, whereupon the aircraft were flown on to the U.K, by Imperial Airways'
crews. Shortly after the outbreak of war this schedule was changed and QANTAS personnel carried the
aircraft through to Karachi.
The above shot of "Coolangatta" is from the Sam Hood collection (via the State Library of New South
Wales) whilst the lower shot, from the Geoff Goodall collection, shows the 'boat at anchor on the Brisbane
River. It was impressed into RAAF service during WW II as A18-13. Restored to civilian status is 1943,
it crashed at Rose Bay, Sydney Harbour on 11 October 1944.