VH-ABF (1) Short S.23 "C" (Empire) Class Flying Boat (c/n S.878)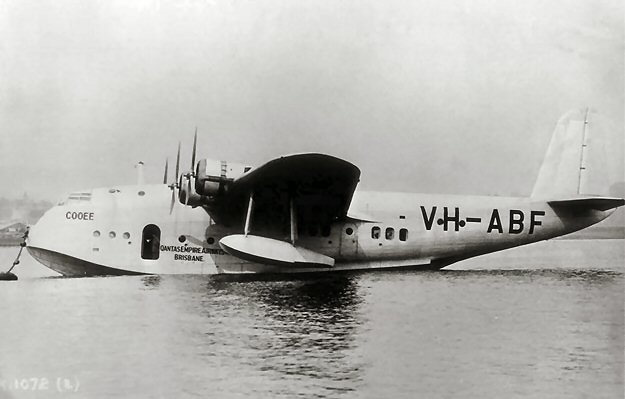 The above image is from the Len Dobbin collection via the Civil Aviation Historical Society, whilst the
evocatibe photograph immediately below showing

'Cooee'

overr the City of Brisdbane is from the Joihn
Oxley Library, State Library of Queensland collection, circa 1938. VH-ABF was the aircraft which
operated the first flying boat service from Australia to the U.K. Finally, the last image (probably taken
a stretch of the Brisbane River) is from the Geoff Goodall collection.

Interestingly, when services resumed after the war (in 1946) they were operated by Short Sandringhams
(the so-called "Plymouth" class). The trip took eight days. It ran like this:

dep Poole (Dorset) 09.00 Tu (also Thurs and Sun, but work that out yourself!)
ar Marseilles 11.55 Tu
dep Marseilles 12.55 Tu
ar Augusta (Sicily) 18.10 Tu
dep Augusta 10.00 We
ar Cairo 16.05 We
dep Cairo 08.30 Th
ar Basra (Iraq) 15.30 Th (Try this stop today!)
dep Basra 16.30 Th
ar Bahrein 19.40 Th
dep Bahrein 08.30 Fr
ar Karachi 16.30 Fr
dep Karachi 02.00 Sa (worth even going to bed?)
ar Calcutta 11.25 Sa
dep Calcutta 12.25 Sa
ar Rangoon 16.50 Sa
dep Rangoon 07.15 Su
ar Singapore 15.45 Su
dep Singapore 10.00 Mo
ar Sourabaya (Java) 15.45 Mo
dep Sourabaya 09.15 Tu (we have now been on the bloody thing a week)
ar Darwin 19.45 Tu
dep Darwin 22.00 Tu
ar Bowen (Qld) 06.45 We (half way between Mackay and Townsville)
dep Bowen 09.45 We
ar Sydney 16.35 We

That's not a trip, that's an adventure! Just cogitate on that the next time you complain about being
confined in a wide body for 20+ hours!

This schedule came from the Thomas Skinner's ABC International Air & Shipping Guide, June 1947.