I-TROS Douglas DC-3 (c/n 15230/26675)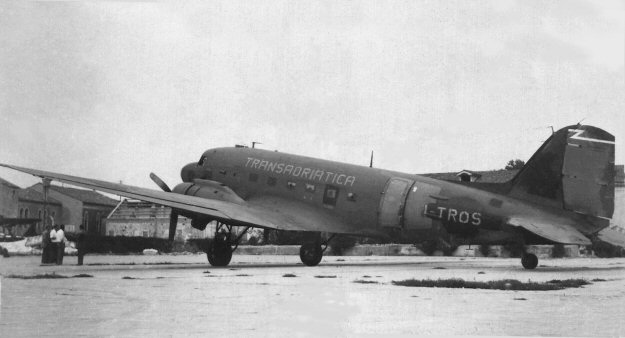 This is how most ex C-47s were typically received by the airlines in Europe at the end of WW II.
Transadriatica was one of some 30 or so small airlines which sprung up in Italy in 1946/47. Very
few operated for more than a year. Transadriatica operated routes from Venice to Rome, Brindisi,
Catanaia, Genoa and Cagliari using six Douglas DC-3s. It was absorbed into ALI Flotte Ruinite
in 1949. I-TROS had yet to be converted to full DC-3CS1C3G standard when this phptograph
was taken. It was an ex C-47B-15-DK (43-49414) which was sold in Australia in 1948 as
VH-BNH.