VH-BNH (1) Douglas DC-3CS1C3G (c/n 15230/26675)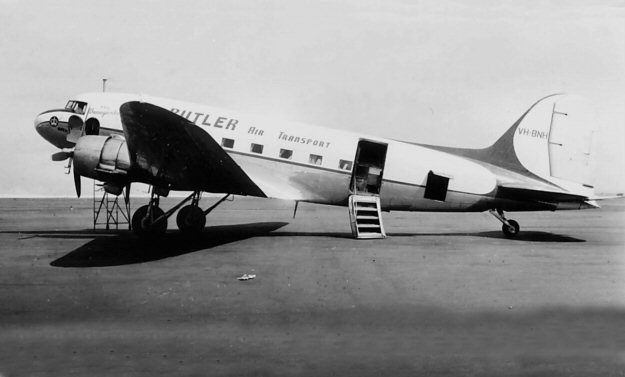 VH-BNH was built as a C-47B-15-DK with the USAAF serial 43-49414. It was civilianized
into the European theater after WW II as I-TROS for the Italian foundling airline Transadriatica.
The rare photograph below shows how a typical C-47 was received into the civilian market in
1945/46. For some reason Transadriatica elected to sell it to Butler in 1948. The tail of I-TROS
after civilianization can be seen in the shot of VH-ANW whilst it was awaiting conversion to
VH-BNH at Essendon in 1948. Also below is a (poor) photograph of it in early Butler markings.
However, the above shot shows how it appeared for most of its airline life. When Butler retired
it the aircraft was brokered by Aviation Sales (see final shot at foot of the page). It was sold in
the US in 1956 as N55L, going to Catalina Pacific Airlines. It was then used in the Viet Nam war
by Continental Air Service Inc (CASI) and later by Air Alliance, finally crashing at Phnom Penh,
Cambodia on 14 Feb 1971.