G-ABCF Avro 616 Avian IVA (c/n R3/CN/467)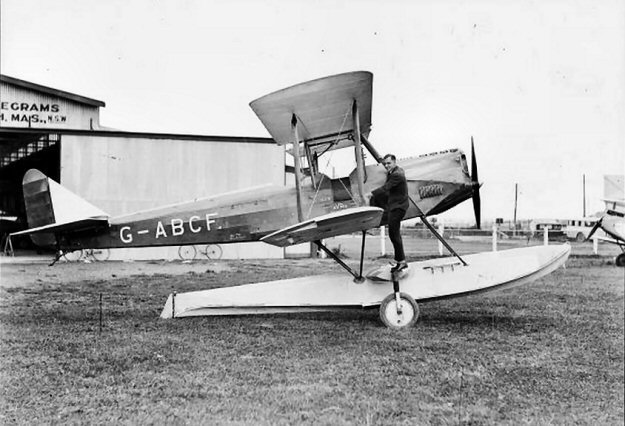 This Avian was specially modified with long range fuel tanks for Charles Kingsford Smith to partici-
pate in a race for light aircraft between England and Australia. Smith named the machine 'Southern
Cross Junior' and departed Heston on 9 October 1930. He made 10 intermediate stops and
arrived in Darwin on 19 October, thus easily beating Bert Hinkler's record. Upon reaching Australia
a controlling interest in the aircraft was acquired by Mr., Albert E. James who planned a flight from
Australia to Japan with it in 1931. The pilot was to be a Mr. Guy Menzies. For that purpose de
Havilland's in Australia fitted it with floats as seen in the photo above from the Fairfax archives (via
the National Library of Australia). In the event it appears that Menzies pre-empted James' careful
planning for this flight and (without James' knowledge or consent) attempted the first solo flight across
the Tasman Sea to New Zealand with it. I suspect that it was (surreptitiously?) re-converted back
to a wheeled u/c for this attempt. For more on this story see my entry under VH-UPT .


.