(VH-UPT)
as G-ABCF Avro 616 Avian IVA (c/n R3/CN/467)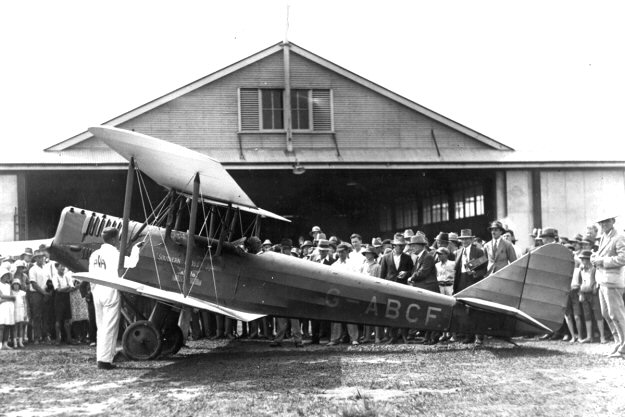 This was the Avian which was specially modified with long range fuel tanks for Charles Kingsford
Smith to participate in a race for light aircraft between England and Australia. Smith named the
machine '

Southern Cross Junior'

and departed Heston on 9 October 1930. He made 10 inter-
mediate stops and arrived in Darwin on 19 October, thus easily beating Bert Hinkler's record.
Upon reaching Australia a controlling interest in the aircraft was acquired by Mr., Albert E. James
who planned a flight from Australia to Japan with it in 1931. The pilot was to be a Mr. Guy Menzies.
The registration VH-UPT was then allocated to the aircraft. However, in the event it appears that
Menzies pre-empted James' careful planning for this flight and (without James' knowledge or consent)
undertook the first solo flight across the Tasman Sea to New Zealand with it before the Australian
rego could be officially taken up, and whilst the aircraft was still registered G-ABCF. The above
shot is from the archives of the Civil Aviation Historical Society in Melbourne and probably shows
the aircraft at Sydney prior to that trans-Tasman flight. Menzies' destination was Blenheim, but due
to bad weather he had to make an emergency forced landing in what he assessed to be a smooth
paddock Unfortunately the paddock turned out to be La Fontaine Swamp, a marsh land near Hari
Hari in the Westland district, and the aircraft overturned. Menzies was not seriously injured although
the aircraft was substantially damaged and was officially written off some three months after the accident,
which occurred on 7 January 1931. As an aside, and sadly, Guy Menzies was killed when the Sunderland
Flying Boat he was commanding was shot down over the Mediterranean in 1940.