D-CADE Douglas DC-3 (c/n 15663/27108)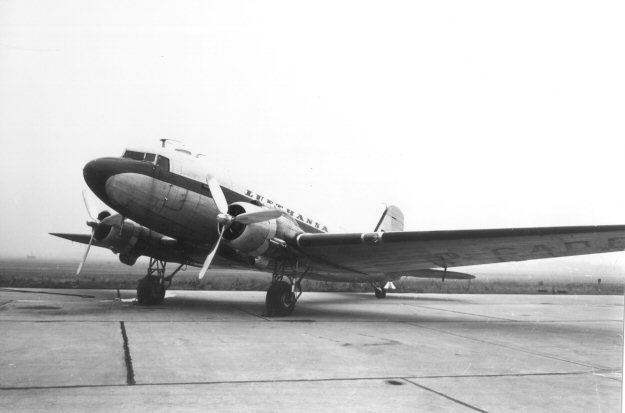 Between 1955 and 1960 the newly resurrected Lufthansa flew three DC-3s. D-CADE was the first
registered. It was the former RAF Dakota IV KG239 which had been released to the Pakistan Air
Force in 1949 as H-718. From there it was sold in the UK as G-ANMB, and then to France as
F-BGSM in March of 1954. Lufthansa acquired it later that year. It was later sold to Bavaria Air
Transport (still as D-CADE) and, after a period of lease to Transair Sweden was sold to the Air
Force of the South Yemen People's Republic as G-41-2-67. Its final fate is obscure.


As a final note

:
There resides, at the Auto & Technik Museum in Sinsheim, Germany, a DC-3 bearing the rego
D-CADE. This machine is, in fact, c/n 25450 and was previously Iberia's EC-AEU. For some
time it carried D-CORA but appears now to have been changed to D-CADE. I assume this was
done since D-CADE was the first DC-3 registered to the "new" Lufthansa, and they wanted to
reflect some sort of historical connection. However, can someone tell me

when

the switch in "fake"
registrations was made? Eduardo Dromer in Spain has kindly sent me an image (below) of the
identity plate resident in the musem's D-CADE showing the Iberia fleet number and former registration.