PP-LDM Curtiss C-46 (c/n 26397)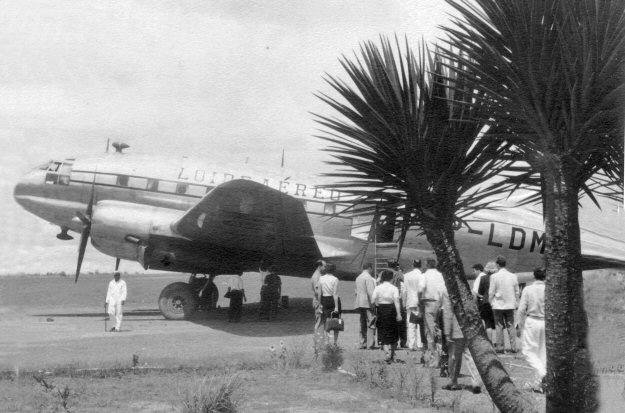 Loide Aereo Nacional operated one of the largest fleets of C-46s in the world. Over the years
they owned more than 40 of them. Loide was originally founded in 1947 as Transportes Carga
Aerea, S.A. (T.C.A.) which, as the name suggests, was an all freight outfit. In 1949 the company
was reorganized as Loide Aereo Nacional and began passenger services from Rio to Fortaleza,
via Belo Horizonte and from Sao Paulo to San Luis, also via Belo. PP-LDM, seen here in a shot
from the album of Joao Novello, was one of two (the other was PP-LDE) used on inaugural flights
from Sao Paulo to Manaos. -LDM was a former C-46-1-CU built for the USAAF as 41-5195
and acquired by LAB in Bolivia from the Reconstruction Finance Corporation in 1950 whence it
was registered CB-50. Loide purchased it in July 1951. It was written off in a crash at Sete Praas,
Santa Amaro, Sao Paulo in September 1953.