PP-LDE Curtiss C-46 (c/n 446)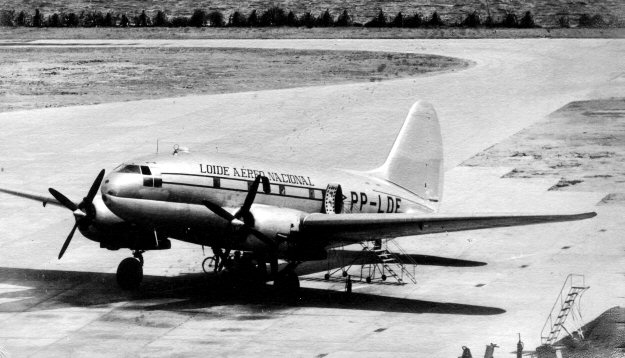 This shot comes from the album of Joao Novello. This C-46 was used to inaugurate Loide's service
between Sao Paulo and Manaos in the Amazon. The first stop was Rio de Janeiro where Joao's wife's
grandfather Sr. Carlos Sylla joined the flight. My image above is an enlargement of the original, shown
below, showing the aircraft under the famed "Sugarloaf" mountain. At the foot of the page is a photo
from the same album showing the crew of the under the nose of -LDE on that historic occasion. Joao
indicates that PP-LDM may also have been used on this initial run to Manaos. PP-LDE was a late
model (despite its c/n) C-46A-60-CK built for the USAAF in 1944 as 43-47375. It was declared
surplus soon after being delivered to the Air Force in 1945 and went to Sun Chemical Corporation
as N1431V. Loide Aereo Nacional acquired in in March 1950 when it became PP-VCX. It was re-
registered PP-LDE some six months later. It crashed into the River Negro after take-off from Manaos
on 24 May 1952.