PP-AXR Douglas DC-4 (c/n 27250)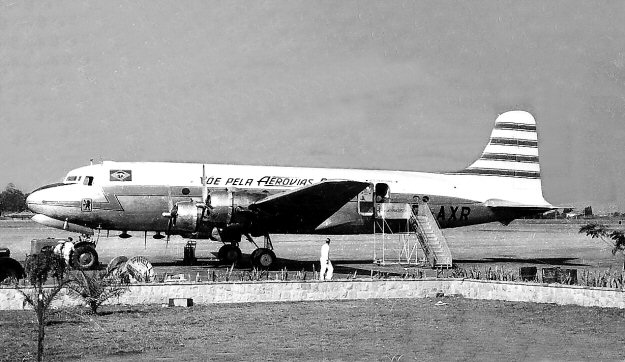 I recently (2006) received a communication from a Mr. Fred Hanke (now of Southern California)
who indicated that, as a teen ager, he had immigrated to the US from Brazil in 1953 and the aircraft
which carried him was PP-AXR. Fred wanted to know if I had a photo of it. I did, but the only
decent one I had of it was whilst it was NC54361 with Chicago & Southern prior to becoming
PP-AXR. The only other image I thought I had was in the background of my Aerovias Brasil shot
of PP-AVK. Turns out I had another poor shot of it in original Aerovias Brasil markings and I
will, for historical completeness, append that at the foot of this page. Anyway, in pursuing further
research of "his" aircraft, Fred dug up the other two illustrations on this page depicting the aircraft
after the amalgamation with REAL had taken place. These came from various editions of FLAP
Internacional magazine. I am indebted to both Fred and to the Brazilian journal for these rare images.
PP-AXR was built as a C-54B-20-DK with serial number 44-9024. After four years of service as
Chicago & Southern Airlines'

"City of San Juan"

it went to Aerovias Brasil as

"George Washington"

.
This DC-4 later went to Loide as PP-LEZ and then to VASP when the latter bought out Loide. It
appears to have returned to the US in 1968 and was broken up at Fort Worth, Texas in 1974.