PP-AVK Douglas DC-3 (c/n 4910)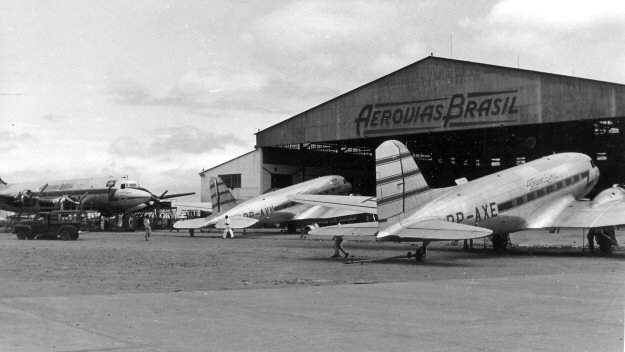 This page will double for both -AVK and -AXE. Incidentally, the DC-4 on the far left is PP-AXR.



PP-AVK

. Named

"Espirito Santo"

Like PP-AVJ, this was built as a C-53-DO. USAAF
serial was 42-6458. After WW II it went to TACA as TI-71 and was then transferred to Aero-
vias Brasil in 1952. It was absorbed into the REAL-Aerovias Brasil fleet in 1954 but did not go
to VARIG when they purchased REAL. Instead it was sold to the Gov do Estado do Parana
(State of Parana) as PP-EDL.. In the 1970s it went to a travel club as PT-KVP and wound up
with Master Aerotaxi, still with the same registration. It was reputed to have been withdrawn from
service (bandoned) following a wheels up landing at Costa Rica in the State of Mato Grosso do Sul
whilst possibly on a clandestine drug smuggling operation.



PP-AXE c/n 12356

. Named

"Alagoas"

. Built as C-47A-5-DK ostensibly as 42-93544 but
seconded to the RAF as Dakota III KG349. Acquired by Empressa do Transportes Aereo Brasiliero
(TABA) in 1949 as PP-ACB. Purchased by Aerovias Brasil in 1952 and re-registered PP-AXE.
Prior to the take-over by VARIG, Aerovias sold this DC-3 to the FAB (Brazilian Air Force) where
it became FAB2076 (who would have classified it as a C-47A). Recivilianized again in the 1970s
as PT-KVU. Written off in a crash at Carlos Prates Airport (today used only for light general aviation)
Belo Horizonte on 7 Oct 1978.