PP-AXQ Douglas DC-4 (c/n 18338)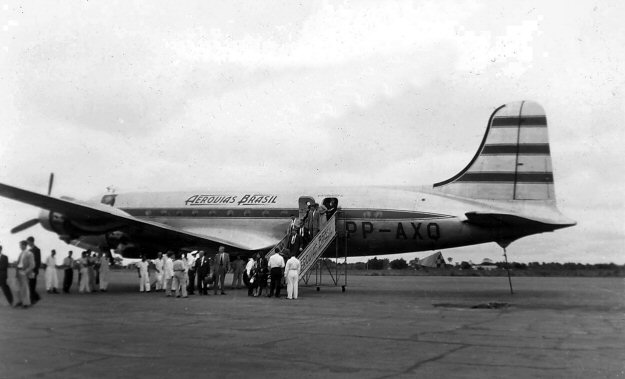 Aerovias Brasil operated three DC-4s (although a fourth was acquired when REAL took over
in 1954). The three originals were former Chicago & Southern Airlines machines and were sold
to Brazil in 1951. The above image was received from Fred Hanke (see the connection under
PP-AXR) and was first published in FLAP Internacional magazine. PP-AXQ was named


"Genera San Martin"

in Aerovias service. It was built as a C-54B-5-DO for the USAAF
with serial 43-17138, and flew with Chicago & Southern as N88708 from 1947 until 1951.
The badly cropped second shot below shows it white-topped after the take-over by the REAL
consortium in 1954 in REAL-Aerovias Brasil livery. In 1960 it was sold to Loide, and re-
registered PP-LEY. The image on the foot of the page is from the Jennifer Gradidge collection
and is rare in that it shows PP-AXQ in Loide livery just before this re-registration occurred.
The aircraft was repatriated back to the USA in the early 1970s and wound up as the "Flying
Down to Rio" cafe in Rio Vista, California. I understand that it was rescued from that fate but
am uncertain as to its current whereabouts.