CC-CLDE Douglas DC-6B (c/n 45514)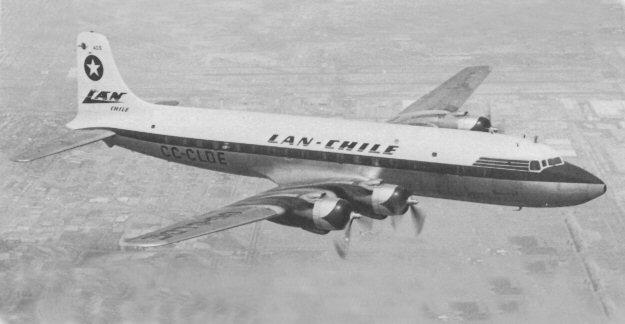 In 1955 LAN Chile began expanding its services internationally. To do this it needed longer
range aircraft, and a fleet of seven DC-6Bs was acquired new from the manufacturer. Routes
were opened to Lima, Panama City and Miami. CC-CLDE was re-registered CC-CCH in
1959. (See my dissertation on the four letter suffixes in the entry for the DC-3 CC-CLDP).
After a spell with LADECO this DC-6B was withdrawn from use and stored at Santiago-
Los Cerrilos until 1979 when it passed to Cia de Renta la Portena as CC-PJD. Shortly after-
ward it came back stateside as N843TA in 1980. By 1994 it was flying out of Panama with
Transoceanica de Aviacion as HK-3892X who withdrew it from service the following year.