CC-CLDP Douglas DC-3 (c/n 9716)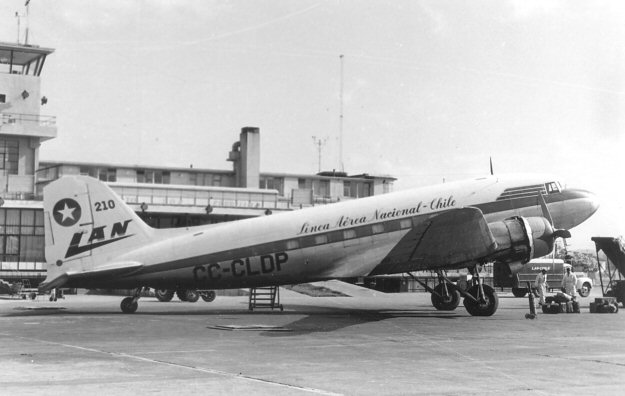 From about 1956 until roughly 1960-61, Chile employed a strange four letter suffix style
registration system. CC-CLDP was former CC-CBG. It would later have been registered
into a three letter suffix series again had it not crashed at Llico, Curico on 3 April 1961.
The Douglas aircraft (DC-3s and DC-6Bs were registered in the CC-CLD- (A through Z)
series, the Martins CC-CLM- and the Convairs CC-CLC- etc. As I say, this didn't last,
and by the early 1960s they were back to the conventional two and three letter designations.
This C-47A had flown with Flying Tigers right after WW II as NC17193 before going to Chile.
The above shot is by the late Peter R. Keating and is shown courtesy of the Jennifer Gradidge
collection. It was taken at Santiago in the early 1950s.