VP-PAA de Havilland D.H.104 Dove 6 (c/n 04457)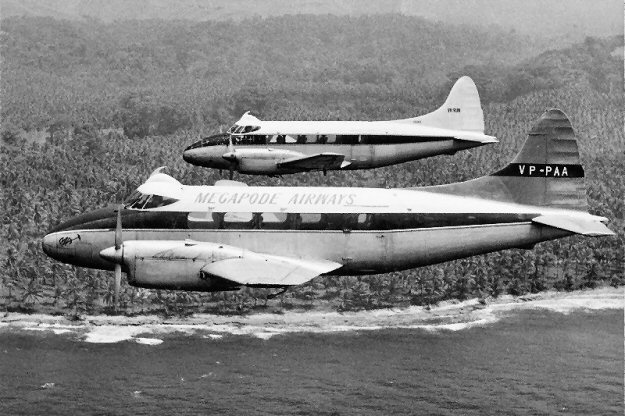 The first aircraft registered in the Solomon Islands was this Dove, which was ex VH-DHF.
It was owned by Laurie Crowley who launched charter flights to the Solomons from his base
in Papua/New Guinea. When regularly scheduled flights commenced he named the company
Megapode Airways (after the dark, pigeon like bird which inhabits the region - one of whose
features is that it will only fly if absolutely necessary, preferring to remain on the ground!).
Anyway, I am indebted to Bob Smith of Kiama, NSW for the rare shot above.
Accompanying it for this photo shoot was VH-RUN which later became VP-PAL. In
February 2012 I received the photo below from Robert Milburn (taken during his days in
the Solomons) of VP-PAA in company with a US Navy R6D-1/C-118B (BuNo 131606).
This DC-6 was civilianized in 1981 as N4206L for North Air Cargo, incidentally,.
VP-PAA, meanwhile, was withdrawn from use and cancelled from the register iin November
1969.