PK-LEA de Havilland D.H.104 Dove 6 (c/n 04313)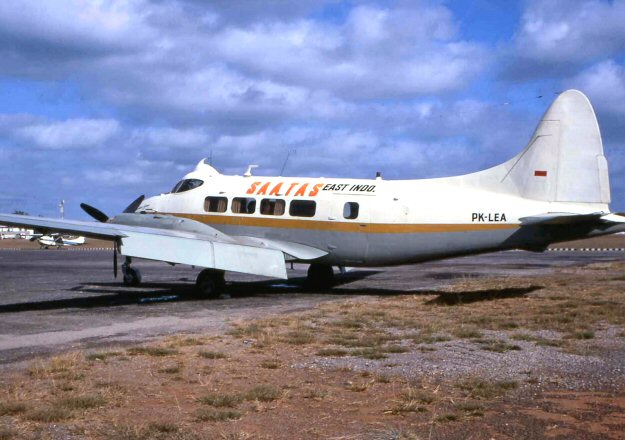 In 1970 Adelaide-based SA & Territory Air Services (SAATAS) expanded its operations into
Indonesia's West Irian and East Timor, with the corporate name PT Saatas East Indonesia This
company eventually operated a variety of aircraft, but this Dove, ex VH-MJD, was its first. The
"LE" series of regos were chosen for owner Dick Cavill's wife's name Lena. The Dove had been
imported into Australia ex G-APCZ for Chartwell Pty Ltd operating under the name of Chartair.
It also went to Air Oasis for a while before being acquired by Saatas East Indonesia The above
shot was taken by John Wheatley at Darwin, NT shortly after it had been registered in Indonesia.
<> > PK-LEA was among the many aircraft badly damaged at Darwin Airport by Cyclone Tracey on
Christmas Day 1974. Geoff Goodall indicates he drove from Perth to Darwin (no mean feat
- Ed) in October 75 and found PK-LEA at East Point Military Museum along with a B-25D from
the desert, RAAF C-47 A65-104 and DC-3 PK-RDB. Later the Dove ended up at the airport
fire service practice area, where presumably it was ultimately burnt. Its undercarriage and parts live
on in the Darwin Aviation Museum's displayed Timorese Dove CR-TAG.