VH-MJD de Havilland D.H.104 Dove 6 (c/n 04313)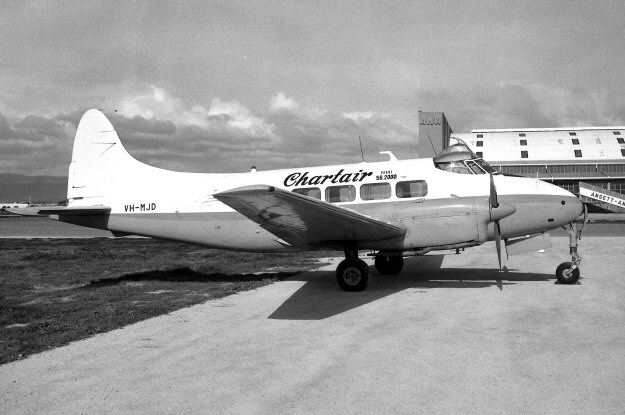 This Dove was originally delivered to the French Cie Nord Africaine de L'Hyperphosphate as
F-BFVL in 1951. It was re-registered F-OABL when it went to Textile Cotoniere. Returning
to mainland France in 1956, it went to SNCA de Sud Ouest as a company hack and reverted to
F-BFVL. In August 1957 it was sold in the U.K. to the brewery conglomerate Ind Coope and
Allsopp becoming G-APCZ. After shuttling brewery management around for a decade it was sold
in Australia to Chartwell Pty Ltd in September 1967 as VH-MJD. Geoff Goodall saw it (above)
at Adelaide Airport in August 1968 with its dba livery. The photo below by David Eyre shows it
at Bankstown, somewhat earlier in April 1968. I suspect the color scheme was the one it was
wearing at Ind Coope's and just not changed when it went to Chartwell . Anyway, Chartair did
not have it long since it soon went to Air Oasis and then in in 1970 it was registered in Indonesia
as PK-LEA with PT Saatas East Indonesia. As such it was one of the the many aircraft badly
damaged at Darwin Airport by Cyclone Tracey on Christmas Day 1974.