ZS-DHL Lockheed 18-56 Lodestar (c/n 2050)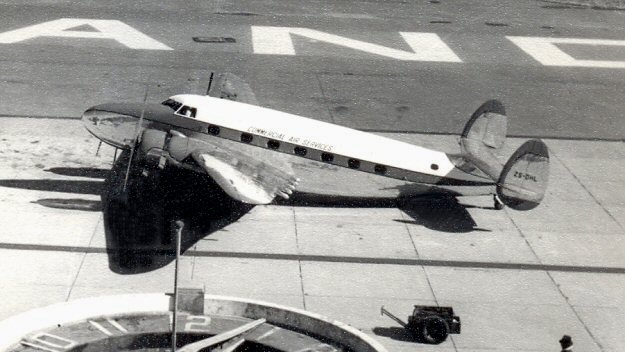 Commercial Air Services was formed in 1945 by four ex-SAAF pilots. Charter flights were
flown out of the Rand Airport, Germiston, Johannesburg, and the embryo company acquired
the Cessna dealership for Southern Africa (basically the Union and Southern Rhodesia).
Scheduled services from Johannesburg to Durban began in 1948, and to the gold mining town
of Welkom the following year. As loads increased, so did the need for more capacity and in
1953 the company acquired two Lodestars. Both of these Lodestars were originally South
African Airways machines which had been sold to East African Airways in the late 1940s.
They were: c/n 2035, ZS-ASU, VP-KHW and ZS-DHK and c/n 2050, ZS-ATD, VP-KIA
and returned to the Union as ZS-DHL as seen above at the Rand Airport in this image from the
Donald L. Van Dyke collection. Don was an ex-CAS captain. Comair, as it is now known,
has remained in business to this day (surely a tribute to its management) and became a British
Airways franchise partner in 1996.