Zantop Air Transport Douglas DC-3 N18101 (c/n 1959)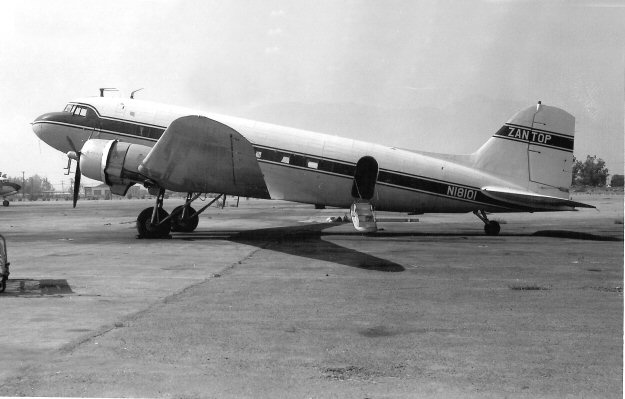 Zantop Air Transport was founded as Zantop Flying Services in 1956 by Howard, Duane and
Lloyd Zantop. The name change was made in 1962. Based in Ypsilanti, Michigan, their cargo
charter contracts were primarily based on supplying parts and components for the automobile
manufacturing industry. They later acquired Logair military contracts and grew into a sizable
enterprise before selling out in 1966 to Universal Consolidated Industries who reformed the
Zantop operation into Universal Airlines. In addition to flying a dozen or so DC-3s, the com-
pany also flew C-46s (50+), DC-4s, (6) DC-6s, (5) DC-7s (+/-17) and Armstrong Whitworth
AW660 Argosys (6). N18101 had bummed around the L.A. Southland for a number of years
before Zantop acquired it in 1964. My shot was taken at Hawthorne Municipal Airport in Feb
1965. Originally delivered to Western Air Express as a DST-A207 it had served with several
owners (Catalina Pacific Airlines, Miami Air Services etc.) previously. Zantop did not hold it
long and it went to Argonaut Airways in 1965 and then to Aerovias Quisqueyana (still with U.S.
registration) before being withdrawn from service.