Westair Transport Curtiss C-46 N95451 (c/n 441)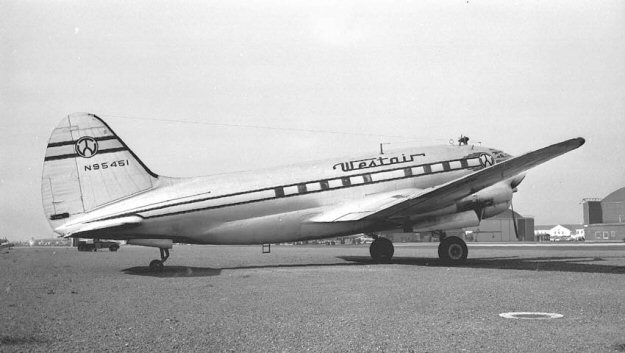 This Bill Larkins shot was taken at Oakland in 1952. It wears the earlier Westair titling, sans the
'Transport'. The former C-46A-60-CK (43-47371) was civilianized by the Reconstruction
Finance Corporation in January 1946. Stored briefly at Walnut Ridge, it was converted to C-46F
standard before being purchased by Westair Transport in 1947. In 1953 it became the first aircraft
acquired by Sourdough Air Transport of Fairbanks, Alaska. In 1955 it went to Canada as CF-IHX
and in 1959 to LEBCA in Venezuela as YV-C-LBH. It ground looped at Carora, in Lara state,
Venezuela on 2 November 1962 and was damaged beyond repair.