Sourdough Air Transport Vurtiss C-46 N95451 (c/n 441)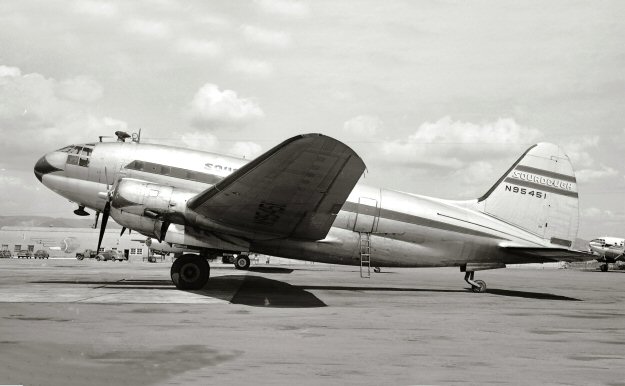 As its name suggests, this charter outfit operated primarily within the Territory (as it was then) of
Alaska. Founded in 1953 at Fairbanks, it continued until around 1962. It had a modest fleet of
two C-46s, one DC-3 and one DC-4. N95451 above was photographed at Oakland in May
1953 by Bill Larkins. A close up of the tail appears below. This C-46 had been acquired from
Arnold Air Service, and before that it was with Westair Transport, as seen in Bill's shot of it in
that identity. Later in its career this C-46 went to Canada as CH-IHX and finalkly wound up
in Venezuela as YV-C-LBH. It was damaged beyond repair aftert ground looping at Carora,
Lara, Venezuela on 2 November 1962.